Siets Slideline
SIETS Slideline is win32 architecture application for MS Windows OS that provides always-on news bar with sliding news headlines on your computer screen when using Windows OS.
Can be used to monitor latest Siets database updates along with optional user-customized RSS feeds from third-parties.
Software taps into the latest news headlines by analyzing content changes from SIETS server and from other RSS sources, using HTTP transport protocol. Internet connection is required for Slideline application to work properly.
You can personalize all data sources and display options as you need.

---
Sticky Headline News For MS Windows Users
Runs on Windows98, 2000 and XP. Unlike many Java or ActiveX based products Siets Slideline utility has one unique feature - it does not closes when you stop your browser.
SIETS Slideline is showing titles of sliding news and events one-line, using a "sticky" window on MS Windows desktop.
User can change Slideline window bar size, location and can configure his own selection of news sources.
By clicking on the news title of the user interest, Internet browser is activated in a new window, transferring user to the original data source and the web page where user can read the full content of news.
---
Pre-configured Slideline data sources
Users are offered the following news and events resources from SIETS Slideline as default information services:
Lursoft newspaper library NEWS.LV
Company Register news from UR.GOV.LV
Apollo.lv portal news
eSports.lv portal news
More than 25 latest articles from daily press and magazines
Latest tenders from State procurement office IUB.GOV.LV homepage
Latest donations to political parties from KNAB.GOV.LV homepage
What others are searching in Siets web search engine?
Weather news
Currency rates from Latvian Bank home page BANK.LV
Name days from Siets.lv calendar
SIETS Slideline information resources are being constantly updated by Lursoft, becoming available to everyone on Slideline. Latvian Court information news are coming soon.
In Slideline user interface all news resources are ordered according to their popularity by other Slideline users.
---
Slideline news in RSS-format
Slideline additionally offers to activate RSS news channels on the Internet.
RSS are syndicated news channels published in XML format by many popular news portals and services such as BBC, Wired, SlashDot etc.
Most of RSS news sources are in English, with only few sources available in Latvian Internet.
All Slideline users have an opportunity to add their own Slideline RSS data sources with interesting and useful information. By adding own news source to Slideline, these sources are being added to specific news categories by Slideline.
---
Community of user-shared ranked news
Added data resources by other users immediately become available to all SIETS Slideline users and will show up in Slideline application configuration window as new sources. Use can configure them as new data feeds if interested.
In SIETS Slideline database all news sources are being ranked by their popularity in Slideline user community.
---
Slideline privacy guarantees
SIETS Slideline application does not access user information on their PCs.
It does not do any other actions on user PCs not related to its direct functionality: to provide news feed from SIETS server powered content change alerting services or from other RSS data sources configured for Slideline as news source.
---
How to use Slideline
While application is running, you will have single line above all other windows displaying latest headline from sources, you have selected.

Line is located in the lower part of the desktop. It can be moved to any place. Next time, when application is started, it will appear in exactly the same place, as it was closed. Application can be moved by clicking and holding left mouse button and dragging to new location.
Left click on sliding headline will open full article in default web browser. If link is not available, nothing will be opened. To prevent any problems with multiple double-clicks, minimal time between double clicks is half-second.
Right-click on Slideline will open main menu.
You can perform following actions from main menu: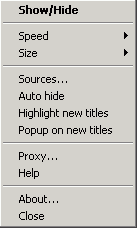 Show/Hide - Show Slideline, if it is not visible or hide it, if it is visible. This is default options, so this actions will be perform on double-click on application icon in icon tray area (near the clock).

Speed - You can change scrolling speed by using this sub-menu.
Size - You can change base size by using this menu. Each text item can be displayed a bit smaller or larger than base size.

Sources - convenient way to select sources.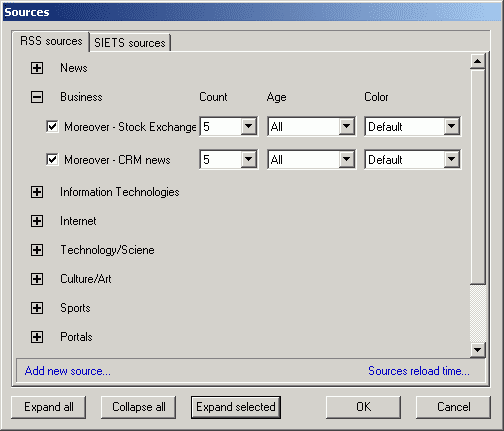 Dialog has several tabs. Each of them contains a group of sources: "RSS sources" - RSS sources and "SIETS sources" - your SIETS server sources.
Largest part of each tab is occupied by sources, grouped in categories. Expand category to view and select sources in this category or to select color, time limit and count for each sources.
The is possibility, that all parameters cannot be set for some sources. It is normal situation when parameter does not have sense or sources does not have ability to change specific parameter.
Tab "RSS source" contains additional possibilities "Add new source..." - to add new RSS sources to list in any category and "Sources reload time..." - to choose sources reload time.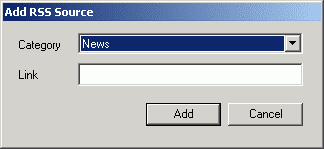 This is dialog for adding new RSS source. You have to only choose the category and enter the link, and if link will contain valid* RSS source, it will be added to list.
* - Application is made according to RSS 2.0 specification. There is no guarantee, that lower or higher versions will be supported, you at your own risk. Only items with titles will be displayed.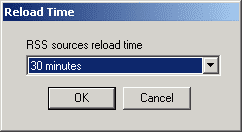 Choose reload frequency and press button OK.
If you think, there should be another category for RSS sources, please send e-mail to us with examples for the category and we will consider adding it.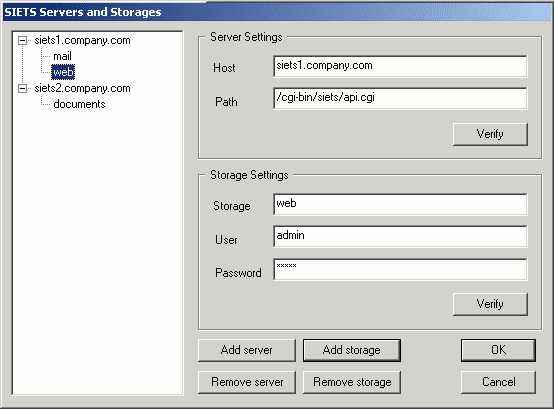 "SIETS sources" tab contains "Edit servers and storages..." link. Click on it will open dialog "SIETS Servers and Storages". This dialog allows you to edit servers and storages, you would like to monitor. This dialog only edits storages. Selection of storages, to display latest items, and parameters if done via Sources dialog. Dialog contains two Verify buttons. One if for verifying server parameters, other is for verifying storage parameters. Press OK to save changes or Cancel to discard changes. Do not afraid to enter storage passwords. They (and all other SIETS data) are stored on disk using strong encryption, so without master password, no data can be read.
Two other links in Sources dialog for SIETS sources tab allows to select data refresh time and set or change master password.
Note. Once set, master password cannot be removed. To remove master password, for example after removing all SIETS servers and storages, simply delete siets.ssd file in application directory.
Buttons in lower left corner of Sources dialog will expand all, collapse all or expand categories with at least one selected source.
Auto hide - When this option is selected, Slideline will automatically hide, when there are no new titles available, and will appear, when new titles become available.
Highlight new titles - When this option is selected, new titles will be highlighted in bold.
Popup on new titles - When this option is selected, Slideline will display notification when new titles become available.
Proxy - This option will open proxy server settings dialog. By default application uses MS Internet Explorer parameters, that are automatically detected. Other options are "Do not use" and "Manually specify settings". Last options gives you opportunity to manually specify proxy server address and port. Address can be IP or DNS style. To apply proxy settings, application must be restarted.

Note. If you use MS Internet Explorer browser and see this page, then second option "Use MS Internet Explorer settings" will guarantee, that you will receive titles.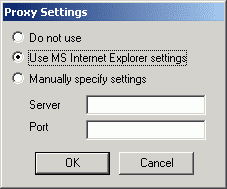 Help - Opens this page.
About - Open dialog with full application version.
Close - Closes application.
There can appear and disappear menu items between Size and Sources options. They are passed dynamically from server and cannot be considered as bugs.
While application is running, application icon is displayed in icon tray area.
Double click on this icon will call default main menu action - Show/Hide.
Left or right single click will display main menu.
---
System Requirements
SIETS Slideline software is implemented as 32-bit Windows OS executable (exe) file, that runs as the resident RAM process in Windows OS, that can be downloaded and started without installation.
Download SIETS Slideline utility as ZIP file here: Download (ZIP)
Installation setup file is also available, that will place the application icon on Windows OS desktop and will activate automatic Slideline startup along Windows OS restart.
Download SIETS Slideline Windows SETUP file here: Download (EXE)