ScalingSearch.com Business Plan
Product: a search tool for software developer market
Siets search engine server software platform was designed and written in C/C++ using a combination of machine-learning, natural language processing, distributed computing and few other relevant data management techniques by Siets.net team of software engineers.
In software industry usually at least 5-10 years are needed until a new software platform for data management becomes mature and reliable code and is safe to operate in mission-critical customer business applications.
Siets.net software has gone through all product development stages since 2001. It was result of many years of software development, testing, documenting and product verification in the market. Among efforts invested were:
about a decade R&D time on the design of software and data store architecture;
implementing API functionality for all market-required must-have features;
writing and updating API documentation and tutorials for all releases;
compiling, testing and debugging software with regression tests for updates;
fine tuning code for maximum performance, reliability and scalability;
preparing installation packages, that are easy to download and use by customers;
product market validation in real customer accounts and in real IT environment;
providing quality technical support for the product customer base;
using customer feedback to do iterative product improvement, releasing new versions.
ScalingSearch underlying search software code base comes from Siets.net and has nearly 20-year maturity and rock-solid reliability for 365/24 operations.
Siets.net software was market proved in numerous customer use cases since 2002 running mission-critical online search services for web and mobile customers.
In addition to reliability, the software code was proved to be nearly linearly scalable at search performance while supporting Big data workloads with tens of billions of searchable objects.
Software supports generic clustering (sharding and replication) on a fleet of commodity servers by distributing the data storage and performing parallelized computing.
It enables customers to easily scale their solutions from a single server to a large cluster, using the total aggregated computing and data storage capacity in a large server farm.
Siets.net scalable search engine software platform code base with its rock-solid and fast search engine API functionality makes it nearly the perfect foundation for a new search software tool kit for software developers: ScalingSearch.
Market size
A new search engine toolkit product for developers can have a good opportunity to address an emerging cross-segment need of 3 large and growing markets:
According to IDC, ML/AI market will grow from $24 Bn in 2018 to more than > $76 Bn in 2022;
Text Analytics Market will grow at 27.4% CAGR to reach $21.7 Bn by 2025 (source: Adroit Market Research);
The cognitive search market anticipated to be worth $15.28 billion by 2023, up from $2.59 billion in 2018 at CAGR 42.6% (source: Markets and Markets).
Customers in above market segments commonly use search engine software for natural language processing, text analytics and search.
Diagram below shows the role of search engine tools being the most common "workhorse" software component in nearly all machine-learning, virtual agents, text analytics and NLP solutions: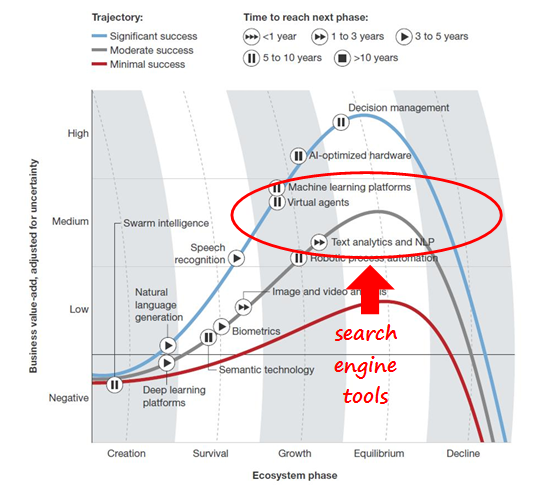 ScalingSearch product as a software developer "workhorse tool" for search engine functionality would fit the market need in those growing market segments.
Opportunity
Developer's, working mostly in small groups of 2-5 people, are actively adding machine-learning based search tools to their solutions.
Containerization and virtualization enables easy distribution of pre-installed software without need to install and configure it manually.
ScalingSearch can be run as a pre-installed with search engine software Docker-container on premises or in the cloud in less than 5 minutes, required to buy the licence online, then download the container image file and then run it using standard container management tools on a developer's computer.
It's a great time-saver purchase for a software developer looking for tools on the Internet nowadays.
ScalingSearch as the latest search engine software product prototype in Docker-version can be evaluated in the upcoming ScalingSearch (www.scalingsearch.com) product, which Contextprime SIA developed as a search tool for developers (alpha-version for testing available), in mutual agreement with ex Clusterpoint IPR holders in 2020.
Competition
There is only one popular search tool kit widely used on the market today: ElasticSearch (built on open source Lucene search engine Java-written software code base).
There are also several outdated search software platforms offered by some legacy vendors (such as MS Sharepoint Search Server or Oracle Endeca) still in the market, but these legacy search platforms are gradually loosing market share and are being replaced mostly with ElasticSearch software or with cloud services running ElasticSearch software such as in Amazon AWS cloud today.
ScalingSearch, being a search engine software product similar by core search functionality to ElasticSearch, and written in faster C/C++ code base, has a potential to split the growth market segment of search tools between ElasticSearch code base platform and ScalingSearch software in future.
Timing
It's the right market time to enter this market segment with an alternative software product to ElasticSearch/Lucene software stack in 2021.
Recently ElasticSearch business changed the license from open source ALv2 (Apache Licence Version 2) to SSPL (Server Side Public Licence), essentially becoming commercial software vendor. It did not help ElasticSearch software that it started to battle Amazon for forking the code for Amazon AWS services in the court (source: The Register, Jan 21, 2021: AWS has been doing things that are 'just NOT OK since 2015,' says Elastic as firm yanks Apache 2.0 licence).
It created confusion in the market among developers and businesses using ElasticSearch, who mostly did not like the software licence change.
Facing unknown prospects of multi-year court process between Elastic and Amazon about licensing issues, even business owners started looking for alternatives to ElasticSearch.
ScalingSearch and ElasticSearch are two completely different software platforms, each with its own advantages and disadvantages.
Customers will chose the right tool for their use case if they can easily find the tool on the Internet and if they can save development time by using the downloaded tool.
ScalingSearch product is all about that: it helps developers to get their job done with the least of their effort.
Customers
The total market audience is more than 29 million software developers worldwide and growing year on year.
Innovation
ScalingSearch product key competitive advantage is support for ACID-transactions, coming from Clusterpoint database innovations and being a unique feature in the search engine software world.
In contrast to multiple previous products, ScalingSearch is just an easy to download search engine core software code, stripped down from all overhead layers of cloud and database software. As a result, the product can be used as a scalable search engine tool kit by developers who need to add some decent search functionality to their application solutions.
A search engine software supporting ACID transactions is a novel concept.
Business model
Online sales of licences and related IT services. ScalingSearch is packaged for easy containerized deployment, so that individual software developers can download Docker-container on their PCs or laptops and instantly start to use it, using standard virtualization support on all modern computers.
Investment required and used of proceeds
A ScalingSearch business plan with 4-year Pro-forma financials requires the total investment of 250,000 Eur.
The money will be used to organize ScalingSearch product online web marketing and sales by Contextprime SIA team.
Reuse of existing corporate structure, technical support team, IT infrastructure, accounting and billing is planned for the product.
The investment money is on the low-side because most of the software R&D efforts were essentially done over many years before.
Break even in two years.
Status today - as of January 2021
Initially proposed by Contextprime SIA for joint VC-funding in 2019, the plan has been changed in 2020.
The initial company business development strategy was to launch a search product business for global market using VC funding, with nearly all investment primarily required for the product web marketing and online sales.
Contextprime SIA has continued to grow its revenues from professional IT services contracts in 2020, gradually accumulating cash reserves for investments into own products.
Contextprime is going to implement ScalingSearch.com business plan using own revenues from other projects in 2021.
Pease contact me if interested to discuss private or venture capital investment proposals for joint project ownership.